What is the contingent workforce?
The contingent workforce is a pool of non-employee workers who are hired by an organization on an on-demand or project-by project basis. These workers are not considered employees of a company. Instead, they work under a contract or on a temporary basis.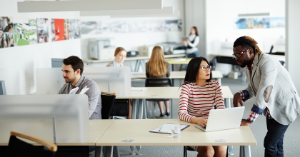 Unlike permanent employees, contingent workers are only with an organization for the continued existence of the job at hand - whether that be completing a specific project or working for a predetermined period of time.
Once this short-term engagement is completed, a contingent worker then moves onto a new job with a different organization.
The contingent workforce category is made up of a variety of workers, including independent contractors, freelancers, consultants and temporary workers. However, the contingent workforce can be separated into two main categories; temporary workers (temps) and independent contractors:
Temps
Temporary workers are typically employed through a staffing agency, places within your organization to fill specific staffing requirements you have. They generally work for a business for a predetermined period of time to meet seasonal demands, fill temporary positions or to help companies scale up rapidly.
Independent contractors
The term independent contractor is an umbrella term for different types of workers, such as freelancers, consultants and gig workers. Independent contractors, who are classified as self-employed and not placed within a business by a staffing vendor, are usually hired to work on projects or to perform a defined set of deliverables and deadlines. They are able to work from where and when they want, and are generally experts in the specific field they are working in.
The management of the contingent category is complex.
Any department or team manager who oversees a non-employee workforce simply must understand contingent workforce management if they are to optimize their program and realize true ROI for their organization.
Here are some statistics on why organizations must focus on contingent workforce management:
According to a study by Deloitte, when asked to forecast the makeup of their workforce in 2020, 37 percent of survey respondents expected growth in the use of contractors, 33 percent in the use of freelancers and 28 percent in the use of gig workers - yet, despite this growth, only 16 percent said they had an established set of policies and practices to manage a variety of worker types, pointing to an enormous gap in capabilities.
Read more...
Your Guide to Understanding the Different Types of Contingent Workers