Why is a VMS Important for the Management of Your Non-Employee Workforce?
The contingent workforce - which is made up of temporary workers (temps), independent contractors, consultants and gig workers - has grown exponentially over the past few years.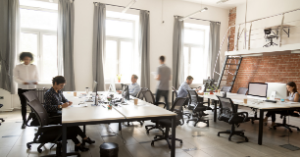 Just take a look at some of these statistics!
Roughly 25-30 percent of the US workforce is contingent - that number is expected to exceed 40 percent when statistics are released for 2020. Not only that, but the report predicts that more than 80 percent of large corporations plan to "substantially increase" their use of the flexible workforce in the coming years (Intuit).
Many large companies estimate that a staggering 30 percent of their entire procurement spend goes toward contingent workers (Deloitte).
60 percent of top bosses expect the use of contract labour to increase over the next five years (The Economist).
More than 40 percent of workers are now employed in "alternative work arrangements", such as contingent, part-time or gig work (Deloiitte).
Since you've read this far down the page, it's likely that your organization makes use of the contingent workforce and has its own non-employee management program in place. If that's correct, then you'll know just how complex contingent workforce management is.
Yet, despite these complexities, a large number of organizations are still using spreadsheets, in-house databases or Sharepoint-like websites to manage their staffing agencies and contingent workers.
These manual and time-consuming ways to manage a contingent workforce simply do not work.
No matter how diligent your organization is, these manual methods will lead to human error, time-consuming processes, and process inefficiencies. The result? Fragmented processes across your business, inefficient admin, vendor and worker overspending, and an overall lack of visibility into the performance of your non-employee workforce management program.
The use of a vendor management system, however, can completely transform your company's ROI when it comes to the contingent workforce.
In fact, 89 percent of organizations that are considered "best-in-class" in contingent workforce management have implemented vendor management systems into their programs (Aberdeen Group Research, as stated in this Fieldglass report).
Continue reading to learn how the use of a VMS will benefit your business.
Read More…
Using Manual Spreadsheets to Manage Temp Workers? It Doesn't Work!