How to Gain VMS Buy-In From the Key Players in Your Business
Moving over to a vendor management system is a big decision for your organization, and it involves buy-in from your entire company. That means your executives, HR team and procurement department all need to be involved.
To help you get buy-in from your entire organization, here's a quick four step process to help you build a winning business case for VMS implementation: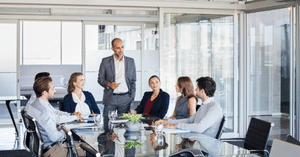 Step #1 - Assess the performance of your current contingent workforce program
The first step of understanding why your business needs a vendor management system, and to get buy-in from others within your organization, is to assess the state of your current contingent workforce program. Review where your pain points are, where your business is losing money and where you might be making poor vendor choices.
Step #2 - Learn about the benefits a VMS will bring your business
Once you understand how your contingent program is performing, you can then review the benefits of a VMS (which we included earlier in this ebook) to find out how VMS implementation will bring a return on investment to your business. Define which benefits will make the most significant impact on your company's program.
Step #3 - Present what you learned from step 1 and 2 to important stakeholders
Once you know how your program is performing and where it can benefit from the implementation of a VMS, you can present your findings to your organization's decision-makers and other stakeholders. Gain support from all of your stakeholders by explaining how VMS implementation will benefit the company and improve its current processes.
Step #4 - Choose a VMS provider
Now you've got buy-in from your company, it's time to choose a VMS provider to partner with. Make sure the provider is a good fit, but more importantly than the technology is at the right price point within your contingent program budget and has all the functionalities you need to successfully manage your vendors.
Read More…
How To Build a Winning Business Case for VMS Implementation
Why a VMS Isn't Just For Large Contingent Workforce Programs
Use of Vendor Management Systems Posed for Growth into 2023
Evaluating VMS Software? Here's What You Need to Know
5 Key Steps for Successful Vendor Management System User Adoption