Are You Measuring Contingent Workforce Program Quality?
Measuring contingent workforce quality may seem like a bit of an abstract concept that can't be defined, but what it really comes down to is evaluating how your staffing agencies are performing. This will give you a good indication of the quality of your contingent workers.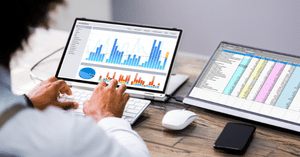 The data and staffing agency performing reporting that you can gain from the use of a vendor management system can give you insights into whether staging agencies are meeting your workforce requirements and the quality of the contingent workers they are sourcing.
You can use this data to address areas within your contingent workforce program that need improvement, as well as discover new opportunities where you can improve the quality of your talent acquisition.
There are a few key things that will give you insight into contingent worker quality, including:
✔️Turnover
How many contingent workers are leaving your organization before their project or contract is up? High turnover is usually an indication that your staffing agencies are sourcing candidates that don't have the quality to undertake the role that you are trying to fill.
✔️Interviews to Hires ratios
This recruitment metric calculates the percentage of candidates submitted by a staffing agency that is ultimate hired by the business. This is a great measure of how well your contingent workforce program is doing in regards to sourcing and screening candidates. The fewer number of interviews you need for a hire, the better effective your business is at placing contingent workers into your organization - as long as your talent quality isn't declining.
✔️Contingent worker feedback
Feedback from contingent workers can give you crucial insights into the quality of your contingent workforce program. If feedback is positive, it's clear that you are acquiring contingent talent that's meeting your needs. If feedback is negative, your business will need to look into whether that's down to your contingent experience or if candidates just aren't matched up appropriately to the right roles.
✔️Fill rate
This is the number of position orders received by your staffing agencies during a specific time period, compared with the number of job orders they actually filled. If your staffing agency isn't close to the fill rate number set by your organization, there might be some underlying issues that need to be addressed.
✔️Contract extensions
Regular contract or project extensions are a good indicator that the contingent workers you sourced are doing their job well, and that means they are high-quality workers. If, on the other hand, your business isn't extended contracts and projects then you either might be sourcing low-quality talent or you're letting high-quality talent go. You need to find out which one it is.
✔️Time-to-fill
The number of calendar days it takes staffing agencies to fill open positions will give a good indication of how qualified they are to source quality talent for your business. The longer it takes them to fill open positions, the more likely your business is to miss out on top talent to your competitors.
When you better manage your staffing agencies and gain insights into how well they are performing, you'll be able to dramatically improve the quality of your contingent talent.
Learn more…
Using Vendor Management Software to Measure Staffing Agency Performance