What are the Top Vendor Management Challenges?
Managing vendors involves a large amount of data and analytics. On top of that, it's likely that you are using a number of staffing agencies to source non-employee workers - making vendor management even more complex.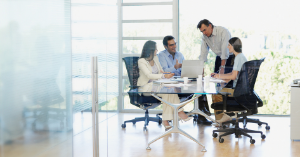 To make this even worse, organizations with smaller contingent workforce spend (anywhere from $1m to $10m) are typically using manual management processes such as spreadsheets, in-house databases or sharepoint-like websites.
In fact, according to a study conducted by Forrester Research, 82 percent of businesses claim that they still use spreadsheets to inventory, assess, and manage third-party companies.
Performing these manual processes lead to a number of vendor management challenges, which all result in poor decision making, hidden costs and a complete lack of visibility into your non-employee workforce program.
Here are just a few of the top vendor management challenges that organizations face:
Lack of visibility: When managing vendors, it's crucial your entire company is singing from the same hymn sheet. With manual processes, it's almost impossible to prevent department leaders from engaging staffing agencies on their own terms, hiring non-employees at a rate they think is acceptable and not the company-set rates.
Vendor compliance risk: Setting standards for your vendors is a crucial component of making sure they are helping your company to achieve its objectives. If you aren't managing your vendors correctly and recording data properly, there's no way of knowing whether your staffing agencies are meeting your company's standards or adhering to their agreements and local statutory laws.
Vendor data storage: To place temps and independent contractors across your organization, it's likely you are dealing with multiple vendors, hiring for multiple projects and multiple team leaders are hiring these workers. To avoid fragmented processes, it's crucial that vendor data is consolidated into one centralized location and updated in real-time for your entire organization to see.